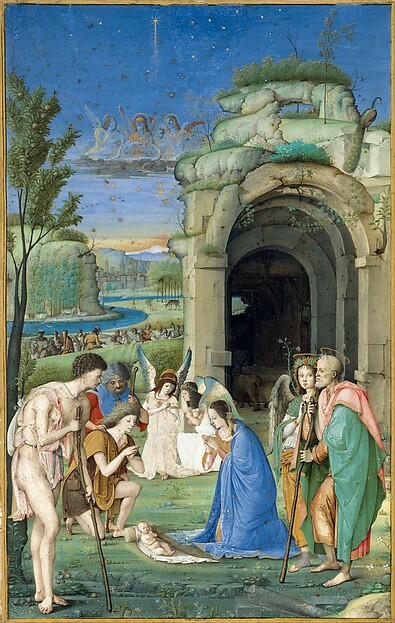 Adoration of the Shepherds
Francesco di Marco Marmitta da

Parma

  (Emilian, 1457–1505)
Date:
ca. 1500
Culture:
Italian, Parma
Medium:
Tempera

and gold on parchment
Dimensions:
9 5/8 x 6 in. (24.4 x 15.2 cm)
Classification:
Manuscripts and Illuminations
Credit Line

:
Robert Lehman Collection, 1975 1975.1.2491
Accession Number:
1975.1.2491
This artwork is currently on display in

Gallery 960
Description

Essentially a small painting on parchment, this image appears to have been created as an independent object for private devotion. According to a letter formerly pasted onto its back, which refers to it as a "tablet," the miniature once belonged to the

Medici

pope Clement VII

(r. 1523–34) and in 1591 was given as a

gift

by

Pope Gregory XIV

to Christine of

Lorrain

,

grand duchess of Tuscany

. As stated in the letter, she would be granted

plenary indulgence

for her sins every time she prayed before the image "for the Salvation of the

Christian religion

and the Church, in the struggle against heresy." The work is among the rare surviving masterpieces by Francesco Marmitta da Parma, who was active as a goldsmith, engraver of gems, painter, and illuminator.